27 Jan

Becoming a Real Birth Teacher

This January 2020 we held our first Real Birth Programme Training session in London, it was an energetic and really fun three days!
To help midwives, doulas and other birth professionals attend our Antenatal Teacher Training Courses, in 2020 we have scheduled 21 training sessions in various locations.

Attending our Teacher Training courses will give you the skills and a deeper understanding to impart evidence-based information to expectant parents to be, using techniques that support a deeper understanding.
There are several key benefits you will get from the training including resources to help you with your classes, but instead of us telling you, here are Zoe and Alice who would like to share their thoughts with you about the training course they recently attended.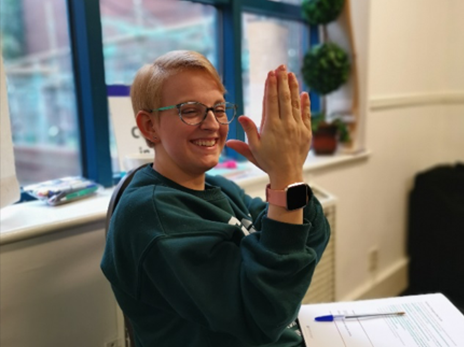 Zoe (pictured right), Registered Midwife from Kent gives us her views on the Real Birth Programme training course.
"I attended the course in London with Zoe and Paulette from The Real Birth Company. The course was extremely detailed and well-structured; meaning that I was able process and understand the information provided really easily.

Each aspect of the course was met with enthusiasm and positivity which is something I aim to relay into my classes. Not only did I learn about birth physiology in great depth, but I also learnt how to deliver this information to women in a non-threatening and positive way. Although I sometimes got confused with the language changes (I kept saying "delivered" rather than "birthed"), I got so much support and encouragement making me feel welcomed and involved at all times.
The sessions were interactive meaning I was able to ask questions and give my opinions within a safe space. The other ladies I was with on the course were so lovely and we are going to keep in contact throughout our Real Birth Journeys.

By attending this course, I am going on to set up my own business Natural Birth- Birth Your Way. Both Zoe and Paulette were extremely helpful in giving us information about setting up a business, insurance and how to advertise ourselves to women and their birth partners.
Thanks to the Real Birth Company, I now have the confidence to empower women and their birth partners throughout their birthing journeys. I thoroughly enjoyed the course and recommend it to anyone who is wanting a high quality and informative antenatal training experience."
There are other options to become a Real Birth Teacher, if you fall into the eligibility criteria, we have an additional online Birthing Basics course that can help your preparation to becoming a teacher.

Here is what Alice (pictured above) thought about her training so far…


"As someone with a non-midwifery background, but a passion for empowering women and families through education about birth physiology, The Real Birth Company have supported me in developing this passion and converting it into a qualification.
The Birthing Basics course allowed me to build upon my prior physiology knowledge through a series of e-learning modules that prepared me for what the teacher training course would cover in more depth.

Zoe and Paulette were inspirational teachers. Their knowledge and passion made the course thoroughly enjoyable; along with the chance to network and chat with other similar minded professionals.
This is a course that challenges what you know, what you think you know and HOW you came to know it. It is developing a movement away from the perceived necessity of a medicalised birth, whilst still preparing parents to deal with such an eventuality. The concept of The Real Birth Programme is well thought out, well executed and peppered with some of the most up to date evidence surrounding birth."


If you're also interested in being in our community, please do get in touch and find out how we can help train you.
zoe@therealbirthcompany.training
01432 381376