It's been an exciting month for The Real Birth Company. This month marked the return of face-to-face training for Founder & Director, Zoe Wright, and Digital Midwife & Real Birth Trainer, Sarah Smith. It's been over two years since the pair have taught together; the last time being February 2020, just before COVID-19 reared its ugly head and changed all our plans.
Last month The Real Birth Company's Midwife duo had the privilege of teaching our Antenatal Programme face to face, as part of our new blended training model. They were able to teach a fantastic group of passionate newly qualified Midwives from Hampshire Hospitals NHS Foundation Trust at their Andover birth centre. We were also joined virtually by the powers of Zoom, by two wonderfully experienced Midwives from the Princess Alexandra Hospital NHS Trust in Essex.
It has been fantastic to get back to face to face training! Midwife Zoe describes some of the differences face to face training brings for us as teachers, and how it can increase the satisfaction it gives.
"You can really feel the difference in the way the sessions work, especially the small practice sessions. Zoom is great, but it has its limitations. As most people are at home, sometimes they can get distracted or other things come up, whereas in face-to-face groups you can see people helping and supporting each other more, laughing and enjoying the tasks".
The impact of COVID-19
You don't need me to tell you that the impact of COVID-19 was vast and widespread for almost every dimension of our lives; from the way we schooled our kids, to the ability to visit friends and loved ones. Staying connected whilst staying apart, became a challenge we all faced. We found new ways commute or work from home, switched our shopping to online, and stuck to our bubbles.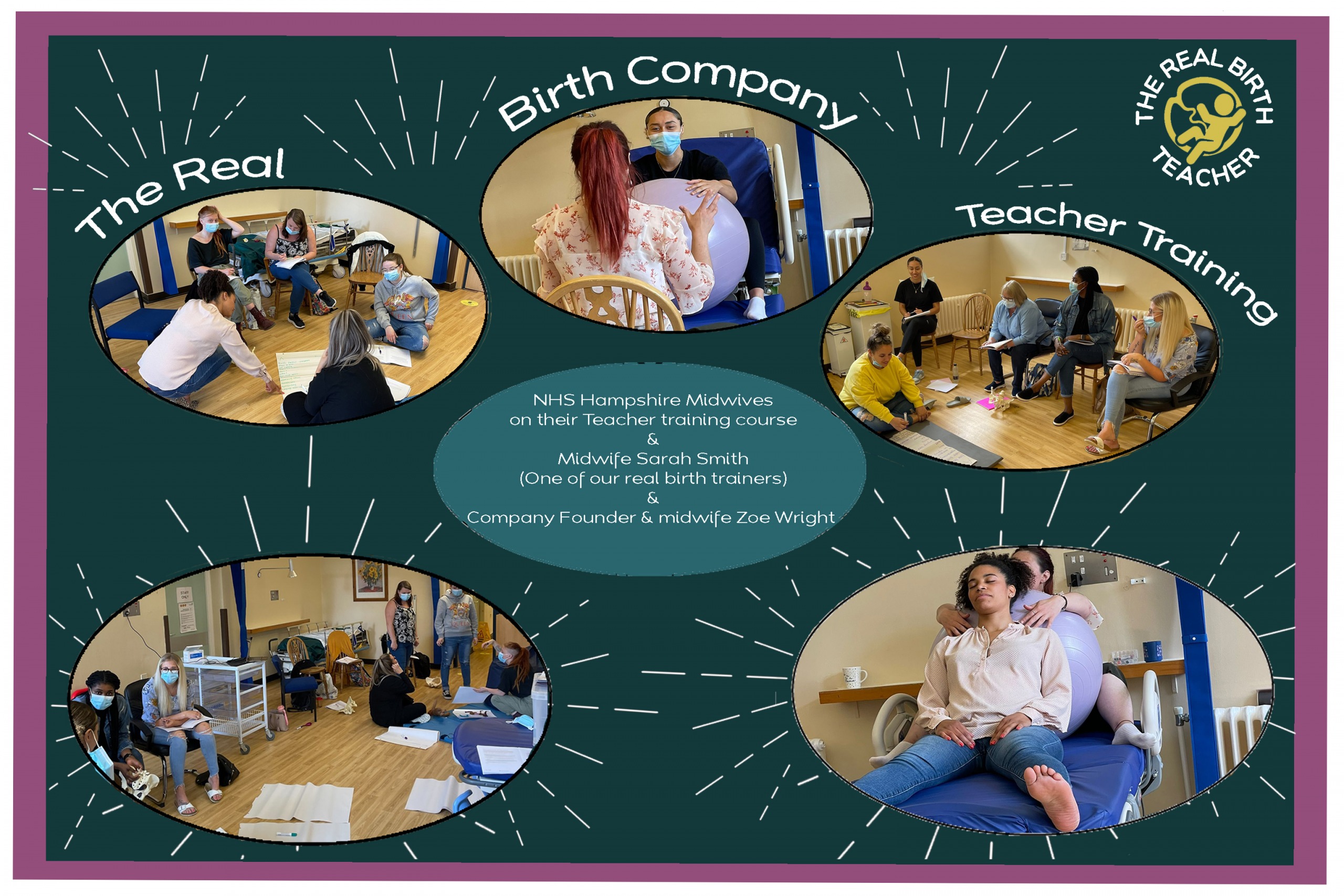 COVID-19 impacted (and to some extend still does) every aspect of our lives. Things we never even had to consider before or things we didn't realise we took for granted, suddenly were thrust under the spotlight. Two years on and it's still shaping the way we live our lives to some degree. It does make you wonder, if things will ever really return to the way things were 'Pre-Covid'.
The impact of COVID-19 on antenatal care and education for women and birthing people
As the country was propelled into lockdown, Government restrictions and social distancing rules changed (literally overnight) the way women and birthing people received their antenatal care with their midwives, doctors and other specialist care providers.
Not only did this change the way in which they accessed care, it reduced appointment times, locations changed, visitation rules were altered, and the role and presence of birthing and support partners were impacted drastically. Covid restrictions reduced face to face contact with health professionals, and instead replaced 'unnecessary' appointments with telephone consultations.
Antenatal education came to a halt with many classes and groups simply stopping completely, with others moving to online platforms.
Whilst we as midwives masked up and got to grips with the hot sweaty reality of PPE, women and birthing people were left with a huge void and sense uncertainty and fear about what this would all mean for their pregnancy and birthing experience.
What did that mean for the Real Birth Company?
As a company, we had to adapt alongside everybody else, and consider how the new restrictions would affect our ability to support families. COVID had both a positive and negative impact on our ability to deliver training sessions. On the positive side, we were able to utilise technologies such as Zoom to provide virtual training sessions – meaning we could reach more people in different locations, and geography became less of an issue. We no longer had to be physically present in certain locations to be able to teach locally. We could now train midwives, doulas and birth professionals more easily all over the world, which we did! We decided to invest in some fantastic tech equipment so that we could provide sessions that were clearer, both visually and sound wise, so we could feel as close to attendees as we could, without being physically present with each other.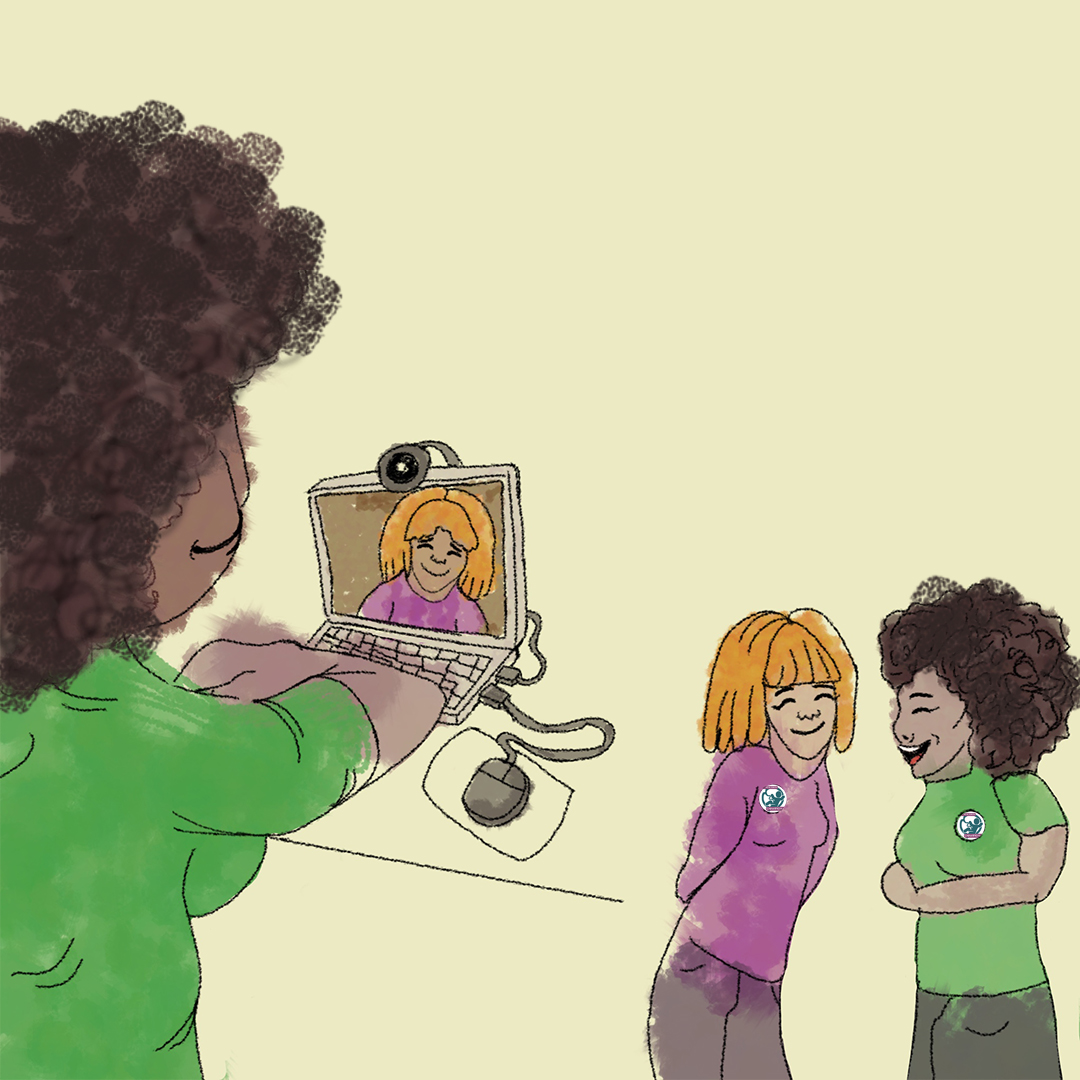 COVID also created an opportunity for many organisations to look at their antenatal care provision and work out how it could be improved and implemented more efficiently.
However, as time went on and the pandemic continued, things also became harder. The novelty factor wore off and people had had enough of virtual…everything! Most of the training we facilitate is with midwives, who were already under immense amounts of pressure and hospital staffing levels were at a breaking point. This made it harder for anyone to be released for training, as releasing staff meant leaving units further understaffed and potentially unsafe.
However, there is now light at the end of this very long tunnel! Since January 2022 we have seen the numbers of midwives and family support services wanting to train increase, and at the last count, we currently have 78 midwives waiting for a training date – which is fantastic!
Virtual vs face to face training
There are some obvious fundamental differences for both learners and trainers when it comes to virtual versus face-to-face training. I'm sure many of you reading this have attended training sessions, classes or conferences virtually over the last couple of years and can attest to this.
Although virtual training has been a lifeline throughout the pandemic, the effectiveness of online learning remains unclear.
There are some obvious benefits to virtual training, some of which we've mentioned already.
Efficient – can reach more people regardless of location without the need to travel
Convenient – can be done in own time and can be done from home
Gain a broader perspective – due to learning and interacting with learners from different areas.
However, there are several downsides to learning in this way as learning potential is limited.
As trainers, we find the beauty of face-to-face learning, is interaction. Interaction is key. Nothing will ever be able to replace the effectiveness of learning in the flesh. Real time and face to face teaching promotes collaborative learning in a positive learning environment. This means that conversations flow more easily, people feel more confident to ask questions and to support each other; ultimately making learning quicker, more effective, and enjoyable for all. When teaching virtually, it is hard to gauge understanding and gain interaction from the group, and it's easy for learners to 'zone out'.
Antenatal education in the digital age & how we stay connected to women
The vision from the Better Births Maternity Review is for all maternity services across England to become safer, kinder, more professional, more family-centred with a greater level of personalised of care; where every birthing person has access to information to enable them to make informed decisions about their care.
Digital technologies within maternity services can provide a wealth of information that people can access in their own time. This can have a positive influence on care, and support face-to-face interactions and appointments with care providers. Pregnant women and people should have access to a variety of both evidence-based and holistic information to help support decision making.
With the current time pressures and staffing crisis across many units in the UK, making time for important, informative and supportive conversations at the level at which they should be had, can be challenging. That doesn't mean these conversations aren't happening. But it sometimes means that birthing families receive shorter versions of the information, or appointments overrun frequently so these conversations can take place.
How can the Real Birth Company's Digital Programme help?
Our Real Birth digital programme has provided a solution. The programme combines national and global evidence into an educational birth physiology and birth preparation tool. It has been human translated into several different languages (with more on the way). This means that midwives and obstetricians can use our programme as a digital resource to support conversations. It's a place where we can reach more women in their own language, where everyone who uses it, can develop a baseline understanding of their body, baby, and choices involved in their care. This means appointments can be better personalised to their specific care needs, supporting the vision from the Better Births review.
Working with NHS Trusts
NHS Trusts are now recognising the value of a digital birth preparation tool for birthing families, in combination with our blended training model for midwives and maternity support workers.
Many hospitals are yet to return to large group antenatal classes since the onset of COVID restrictions, so see our Real Birth digital programme as a way to provide standardised evidence-based, birth physiology and education. Providing a digital tool that women can easily access via their maternity records, enables everyone access to the same information, without adding additional pressures to the already stretched workforce.
The programme is now translated into 7 different languages, with each section available in either text or audio format; perfect for non-English speakers who are often, unintentionally excluded from traditional methods of antenatal education due to language barriers.
Our blended training method seamlessly combines the benefits of both virtual and face to face teaching to get the best of both worlds. This offers the benefits of peer group interaction as well as support from your Real Birth Trainer. Following completion of the course, attendees will become Real Birth Champions within their hospital trusts, enabling them to provide formal antenatal classes in small groups, or on a one to one basis, and to bring their Real Birth knowledge in to their everyday practice to promote a positive birthing environment for birthing women and their families.
But don't take our word for it. Here's what one of our recent attendees had to say about it…
"I found the course to be very helpful, it seemed to bridge some of the gap between information at university … and practice in the hospital. The style of reframing the narrative around birth through information and conversation is really important and useful".  
If you would like to learn more about working with, us click here for further information.