2023 has already been an exciting year for The Real Birth Company – alongside the continued implementation of our digital birth programme in numerous hospitals, and the training of new Real Birth Teachers, we also saw the release of our new caesarean birth module to the programme.
Behind the scenes the whole team have also been working hard to create an additional module to the programme, set to launch in the upcoming weeks. This module, titled 'Giving Birth to Your Baby Early', will offer key information and support to those families with an increased chance of preterm labour and premature birth (before 37 weeks of pregnancy).
Despite the risks to both mother and child, information is not provided routinely to pregnant women and their partners. Information about preterm birth is not generally provided in standard antenatal and birth preparation classes, unlike caesarean or assisted births, or various interventions such as induction of labour. Women and families tend to only receive information about premature birth when it becomes evident that they will go into labour early and have a premature baby. Sometimes due to the clinical picture, it's not always possible for them to receive all the necessary information or talk to the appropriate professionals to have all their questions answered in time before their baby is born. This is a very distressing situation to be in, and increases the anxiety felt by birthing people, increasing the chances of severe mental illness in the perinatal period.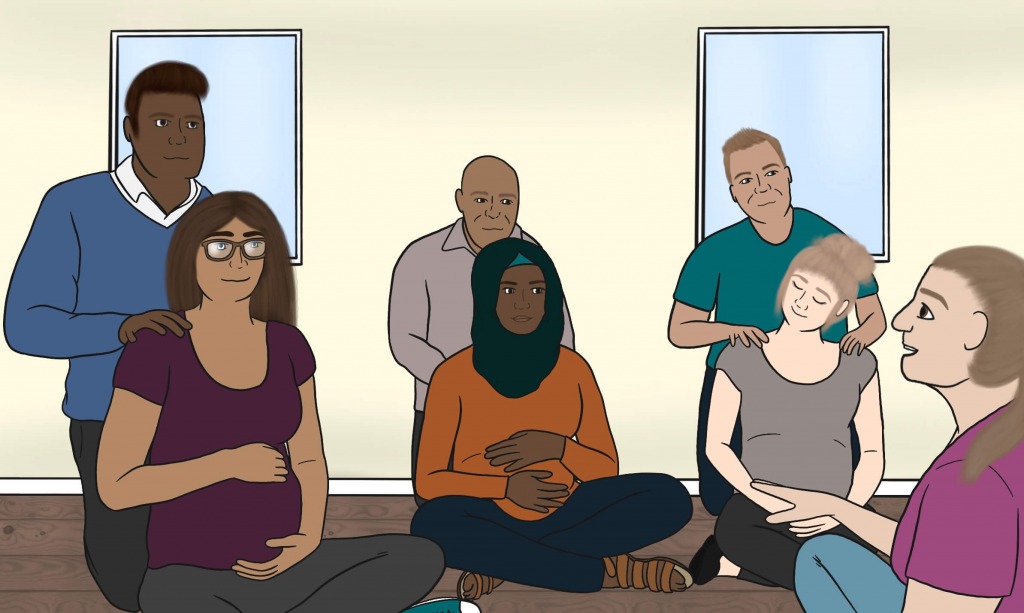 We believed this was not sufficient, and that birthing families deserved more. 8% of pregnancies in the UK will result in a premature birth, with many of those occurring unexpectedly without any predisposing risk factors. Not only is preterm birth associated with significant health implications for babies, but we also know that preterm birth increases the risk of severe depression and post-traumatic stress disorder (PTSD).
We believe that creating a greater awareness of premature birth in a non-threatening way within our programme, will improve the chances of increased emotional wellbeing for mothers and increase the chances of a healthy mother-baby and parent attachment.
Our new module will be available to everyone within our current digital antenatal birth preparation programme for families, so that anyone using the programme will have the option to learn more about preterm birth if they wish, as well as those who are already aware they may have an increase chance of having their baby early.
Risk factors for preterm birth:
Previous baby born early
Maternal medical conditions including – diabetes or blood pressure issues
Multiple pregnancies – twins, triples or more
A very high or very low BMI
Age – under 18 or over 40 years old
Ethnicity
Extreme stress
Smoking, alcohol or substance misuse
Conditions related to your cervix, womb or placenta
Infections
What are the issues surrounding preterm birth?
It is estimated that 15 million babies each year are born too early, which equates to approximately 1 in every 10 babies across the globe. Preterm birth is a significant public health concern as it remains the leading cause of neonatal mortality and morbidity worldwide. Complications arising from preterm birth are the leading cause of death among children under 5 years of age and were responsible for approximately 1 million deaths globally in 2015. It's thought that three quarters of these deaths could be prevented with current and cost-effective interventions.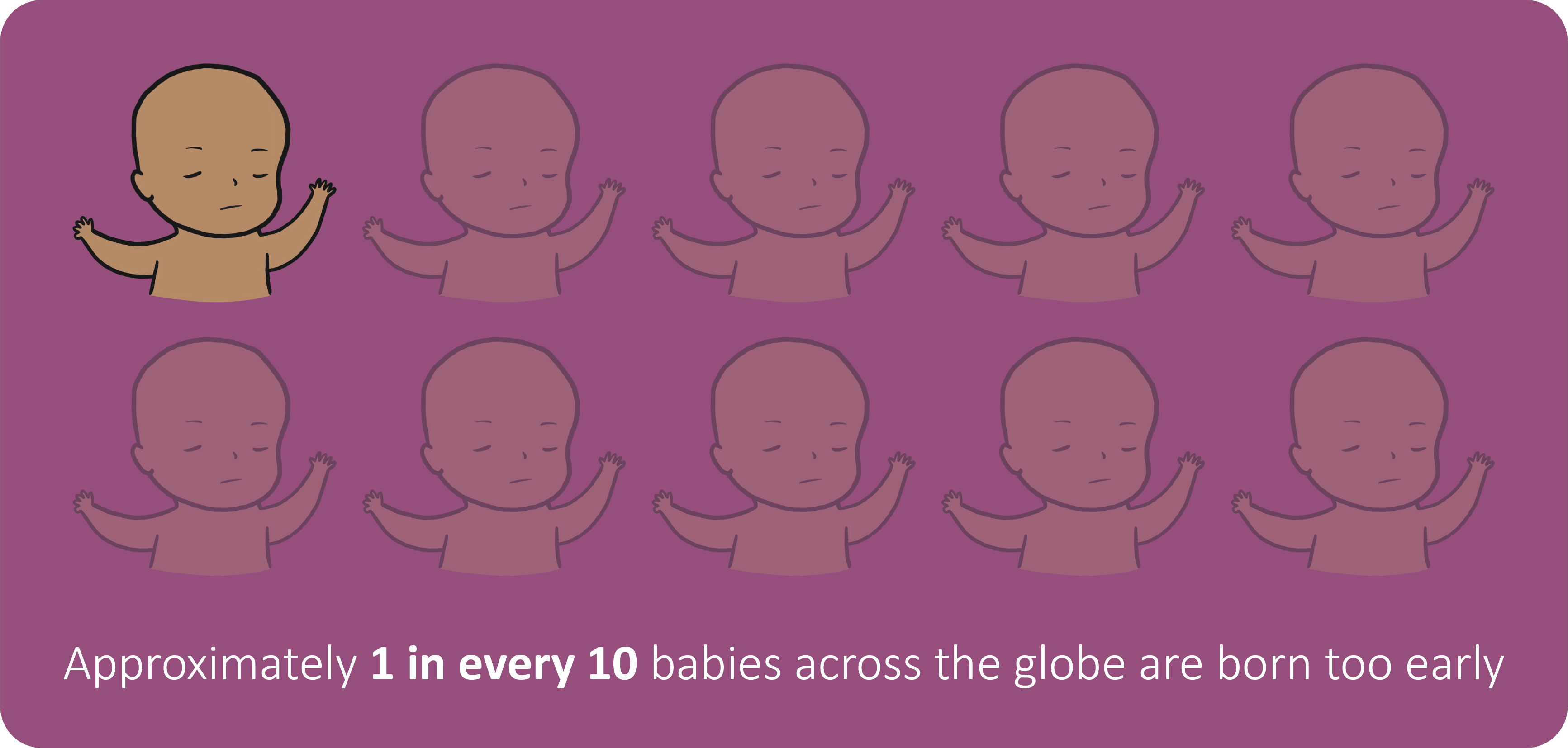 Parents who have a premature baby also experience high levels of emotional stress – often exacerbated by the uncertainty of their baby's health and need for ongoing medical care. Some go on to develop mental health disorders following the birth of their baby or during their initial first year.
Although preterm survival rates have increased in high income countries, premature babies still die often from preventable causes or inadequate newborn care in middle to low-income countries.
Across countries, preterm birth rates range from 5-18% of babies, depending on where they are born in the world.
Classification of preterm birth:
Extremely preterm (less than 28 weeks)

Very preterm (28-32 weeks)

Moderate to late preterm (32-37 weeks)
Preterm birth and health inequity
Preterm birth disproportionately affects those from marginalised communities, contributing to health disparities and further widening the health inequality gap.
The latest birth statistics from 2021 showed that for the first time in 3 consecutive years, the rate of premature birth has actually risen slightly, from 7.4% in 2020, to 7.6% in 2021.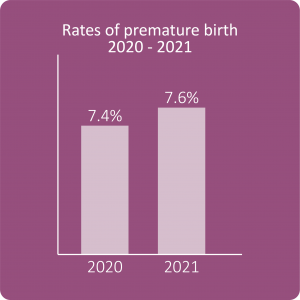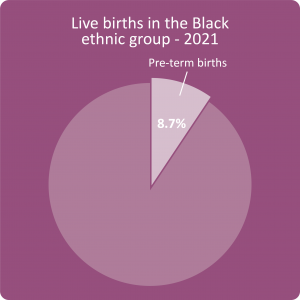 The Office for National Statistics (ONS) has also highlighted, babies from the Black ethnic group have the highest proportion of preterm births since data collection began in 2007. In 2021, 8.7% of live births in the Black ethnic group were preterm births. Between 2020 and 2021, the biggest percentage increase in preterm live birth was in the Asian ethnic group from 7.5% to 8.1%.
Disappointingly, once again Black and Brown babies are being born too early, too small and too sick in comparison to their white ethnic counterparts. These figures are simply unacceptable, and more needs to be done to understand and address these disparities.
Preterm birth and Government targets
We must not forget that there is also a significant financial cost involved for healthcare systems (and parents worldwide) to care for and treat premature babies. At a time where the NHS is struggling with chronic understaffing and resources, reducing workload and financial strain must be a priority.
The Government has set a national target to reduce the rate of preterm births from 8% to 6% by 2025. Much work is needed to be done in order to reach this target as the deadline creeps closer. The approach needs to be both individual and systemic, as the issues surrounding preterm birth are complex.
However, here at The Real Birth Company, we believe we can play our part in creating a greater awareness around premature birth, and by providing educational tools to help support birthing people and their families, and also the midwives and health professionals 'on the ground' who are supporting them.
Antenatal education and preterm birth
Antenatal education is essential to increase awareness and understanding of the factors associated with preterm birth. Expectant parents need to be informed of the signs of premature labour, the importance of good prenatal care, and the steps they can take to reduce their chances of having a premature baby. It also helps parents understand the potential health problems that premature babies may face, and the long-term effects prematurity may have on a child's health and development, and additionally can help to manage the emotional stress associated with preterm birth. Midwives play a key role in the prevention and management of preterm birth. They work with women and families during pregnancy to identify risk factors, provide educational and emotional support, and monitor pregnancy and labour to ensure the best possible outcomes for mums and their babies.
How can the Real Birth Company help?
Our preterm birth module has been co-designed by members of the public – parents with lived experience of premature birth. Midwives and clinicians have also given their expert professional knowledge to help individuals gain a greater understanding of why their birth may be different if their baby is born early, and the neonatal journey their baby may go through. We believe that the key to feeling empowered and confident about birth is knowledge.
As a company we strongly believe that antenatal education should be for everyone, regardless of place, or mode of birth, and irrespective or certain medical factors. Birthing families who know they have an increased chance or having their baby early, or those who know their baby will be born early are just as entitled to high quality, evidence based antenatal education as someone preparing for a straightforward birth.
We believe in providing the same level of quality information, and that it's important to make this information accessible to everyone, as any pregnancy can be affected by premature labour and birth. We aim to support and empower birthing people and families who may face this journey ahead of them. This can be an extremely stressful and daunting time for parents, and we hope that our new preterm birth module will help prepare individuals more effectively for what may lay ahead and alleviate some of the anxieties surrounding their birth and neonatal journey. We also hope it can be used as an effective tool for healthcare professionals and those supporting families during this time.